Everyday Eye Strain
Eye strain (asthenopia) is a group of symptoms resulting from ocular fatigue. The cause of the eye condition varies. The most common reason is digital eye strain, but eye strain can also be a symptom of many eye conditions.
Relieving the symptoms of eye strain can be difficult without knowing the cause. However, if you experience prolonged eye strain or new symptoms, it can indicate the problem is more than tired eyes.
Schedule an eye exam to assess your eye health and learn more about what may be causing eye strain. The more you know about the causes of eye strain, the sooner you can find relief.
Symptoms of Eye Strain
Although feeling like your eyes are fatigued or strained is the most prominent symptom, eye strain can also include:
Eye pain
Dry eyes
Squinting
Blurry or double vision
Light sensitivity
Poor concentration
Burning or itchy eyes
Headaches (eyes and forehead area)
Causes of Eye Strain
How long eye strain lasts depends on the cause. If you know why it's happening, you can stop or alter the activity. Common causes of eye strain are:
Poor sleep
Headaches
Refractive errors
Digital eye strain
Prolonged or intense eye use
If you're experiencing eye fatigue, the cause might be an activity of intense or prolonged eye use, such as reading, writing, or driving.
Vision Problems
Refractive errors occur when our eyes don't focus light correctly. When your eyes compensate for the error, your eyes may focus more intensely. If you have a refractive error, a common symptom is eye strain.
An eye exam can assess your vision to determine if you need prescription lenses. Corrective lenses improve your visual abilities. When your eyes don't need to work as hard, it can relieve eye strain.
If a refractive error is the cause of your eye strain, wearing your prescription lenses can reduce the symptoms quickly. However, you may not notice a complete reversal of eye strain immediately. It may require a short adjustment period.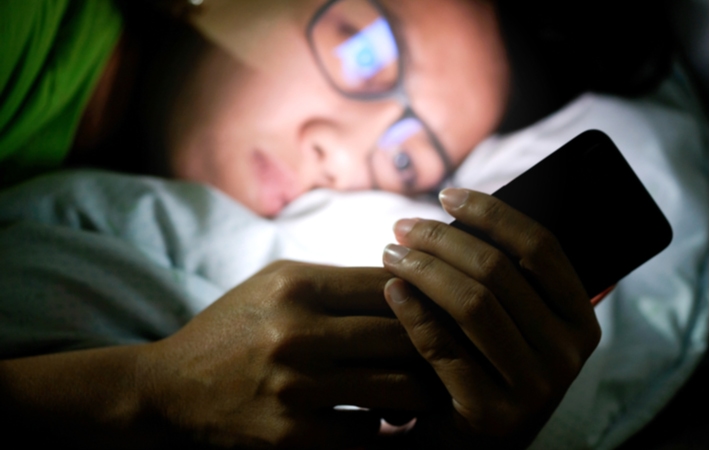 Digital Eye Strain
Digital eye strain is typically caused by staring too close at a screen for a prolonged time or blinking less than normal during computer use. The condition is also referred to as computer vision syndrome (CVS).
In addition to eye strain, other symptoms of digital eye strain include:
Dry eyes
Headaches
Blurred vision
Neck or shoulder pain
One option for alleviating eye strain caused by digital screen use is the 20-20-20 rule. Screen breaks can give your eyes a chance to relax rather than continue intense focusing.
How Long Before Relief Kicks In?
So you've taken a screen break, put on prescription lenses, or another relief method that works for you. How long does it take for you to feel relief from eye strain?
Unfortunately, there's no hard and fast rule. How long it takes your eyes to adjust will vary.
Imagine you're experiencing insomnia, and you don't sleep for 24 hours or sleep poorly for a few nights. Then, you get a decent night's sleep. But you still feel exhausted. Unfortunately, you can't erase a sleep deficit, but you can introduce healthier habits to feel more rested in the future.
Your eyes are the same. You might have worked a few long days in front of a computer screen, then on day 4, you're strict about taking proper screen breaks. Your eyes might feel better in those brief breaks, but your eyes still remember the effects of the days before.
Temporary relief can make activities more manageable. But long-term relief means creating lifestyle habits for better eye health.
Planning for Eye Strain
If poor eye health habits are the cause of your eye strain, it's time to make a plan. Start by noting activities or reasons for your eye strain. By pinpointing the what, where, and why, you can make choices to reduce symptoms.
For example, if computer vision syndrome is the cause, you can schedule screen breaks or adjust your computer position.
If driving is the problem, maybe you need sunglasses to reduce glare. Glare or light sensitivity (photophobia) can make visual activities more difficult and cause eye discomfort. Sunglasses can protect your eyes from UV damage and bright conditions.
Suppose an eye or health condition, such as headaches, is the problem. In that case, you'll likely need to resolve or manage the source of the problem first. Talk to your general practitioner or eye doctor to learn about your headaches.
Finding A Solution for Eye Strain
Eye strain can be brief or long-lasting. So if you're feeling discomfort or avoiding activities because of symptoms, it's time to find a solution.
Whatever the cause behind your eye strain, our team at Legacy Eye Care can help you find relief. Eye care is more than what you can see. Understanding your eye health and lifestyle is the first step to easing your eye strain.Book an appointment with Legacy Eye Care today.